March 2013 News
Musical and Personal News
WEBSITE NEWS UPDATE MARCH 2013
Musical News
In November, Charlie headed down to the School of the Americas vigil at Fort Benning, GA with many of the regular members of the musicians' collective. It was an especially poignant event this year for two reasons. One is that the visionary founder of this event, Father Roy Bourgeois was officially thrown out of his Maryknoll Order after more than 40 years of dedicated service because of his outspoken support for the ordination of women priests.
The other is that our beloved friend, Jon Fromer made a great effort to show up and participate, despite the physical challenges he was facing from stomach cancer.
We are all grieving now, as we lost Jon on January 2nd of this year, and we will miss his great heart and soulful music in our lives. You can purchase Jon's two recordings at www.jonfromer.com. Just days before he died, Jon went into the recording studio and laid down six tracks of new songs. We look forward to those becoming available as well.
Charlie's mystery guest at the Haley House Café was Marcia Deihl, a fun follow up to Marcia'sretirement from her job as a librarian at Harvard.
Marcia and Karen collaborated for many months and are happy to announce the new Charlie King songbook, Songs for the Current Millenium! It includes 18 original songs with sheet music and guitar chords and 19 parodies that Charlie has written since 1999. You can buy it here.
Charlie King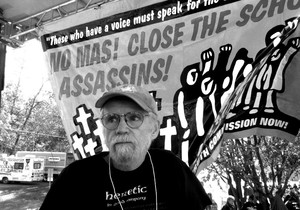 SONGS FOR THE CURRENT MILLENIUM
In January we presented our historical performance piece about the Bread and Roses Lawrence Textile Strike in Williamstown, MA, a great way to start the new year. We are just returning from a tour in the Midwest, where in addition to several concerts, we presented our historical performance piece about the civil rights movement to help commemorate the 50th anniversary of important events like the March on Washington, the assassination of Medgar Evers and the bombing of the 16th St. Baptist church in Birmingham. As soon as we return home, we will turn our attention to our upcoming Duopalooza concert with Magpie.
You can find more concert details on our website, here.
Up Close and Personal News
Karen's News
I'm happy to report that all medical tests indicate that I'm doing great and I also feel great. There is no sign of cancer, my energy is back, and I'm fully engaged in all aspects of life. I continue my practices to maintain wellbeing, which include acupuncture, exercise, a healthy diet, Qigong, dietary supplements and meditation. Being on the road this month is a bit of a test regarding how well I can continue those practices while traveling.
It is one of my passions in life to offer mentoring and spiritual/psychological support to people serving on international peace teams, the kind of support I could have used during my eight years in Guatemala. I'm currently in conversation with the Christian Peacemaker Teams about offering that kind of support to their current and returning team members. They have peace teams in Colombia, Iraqui Kurdistan, Palestine, the Democratic Republic of the Congo and Canada. It would be a great honor to be of service in this way.
Another new project I'm involved in is doing Spanish translations for a Western Massachusetts law firm that specializes in immigration law, helping people stay here and avoid detention and deportation. They expect that the Obama administration will be promoting major immigration law changes this year, and that will result in many people being able to change their legal status. I'm grateful to be able to help with that effort.
In January I participated in a local day long dialogue on race, during which we watched a film by Lee Mun Wah called "Last Chance for Eden." A few weeks later, I found out that Lee MunWah was coming to my area to offer a day long workshop about diversity and race, and I attended that as well. Although racism is something I get to address indirectly through several arenas of my activism, I'm interested in finding ways to do so in my community, and to continue exploring how it manifests in my life.
In late March a group of us will hold our third annual Jewish/Buddhist Passover seder, and later that week I'll head to Vermont's Weston Priory to celebrate Easter at the Benedictine monastery I've been visiting for three decades.
Like many people in my region, I'm eager for winter to end and the signs of spring to arrive. I look forward to warmer weather so I can go for walks outside, shed some layers of clothes and visit the ocean.
Charlie's News
I've been feeding my basketball addiction. For the past 3 years Karen & I have been chasing live on-line feeds of NBA games by our favorite team, the Boston Celtics. When we grow impatient with European feeds in Spanish or French or Al Jazeera feeds that reference Mecca time we impose ourselves on friends with cable TV & large screens. So far we haven't worn out or welcome. And I'm happy to report I spend more time shooting hoops than watching the Celtics shoot hoops. We both joined the local YMCA which allows us the use of the local facilities as well as Y gyms in every city we travel to. This helps me stay in shape, not a bad idea given the current state of health care & costs.
In February we hosted Jamie, Jessica & our delightful granddaughter Viviana Jo, up from their home in Louisville KY. VJ seems to run non-stop and amazes us with her language skills. Mostly it's sign language, body language and coded messages best deciphered by parents, but her generic vocabulary is growing as well.
[More to come soon]
Posted: to General News on Wed, Mar 6, 2013
Updated: Thu, Mar 14, 2013