She Says/He Says: A Musical Conversation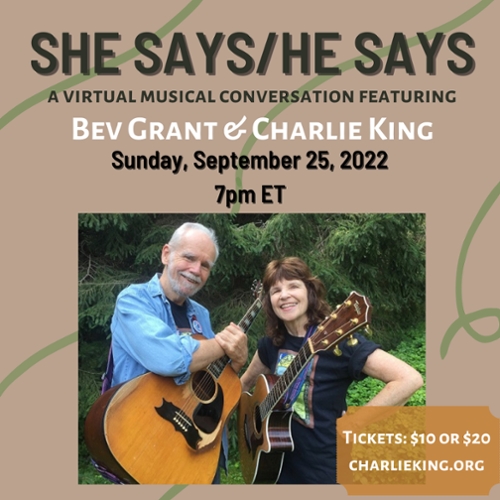 Sunday, September 25, 2022, 7:00 pm until 8:30 pm
Eastern Time - Online
She Says / He Says: A Musical Conversation Featuring Bev Grant and Charlie King
After 45 years of friendship and mutual admiration Bev Grant and Charlie King are still making music together. Both grew up in singing families and share roots in the musical and political uproar of the 1960s. They write and sing songs that are as fresh as today's headlines and stand the test of time.
Their 9/25 concert, She Says / He Says, is a singing dialogue between Bev and Charlie, telling two sides to every story. Join us for a musical review covering a half century of story songs.
"I look for the common threads that bind us through the personal stories of real people, each struggling for a better life." Bev Grant
"What I most value in a song is the way it helps us see an old reality in a totally new light." Charlie King
Tickets ($10, $20) are available here. You'll receive the ticket link 24 hours before the show, and again right before the show. See you there!
Posted to: Live Virtual Events.