SOAWatch Virtual Vigil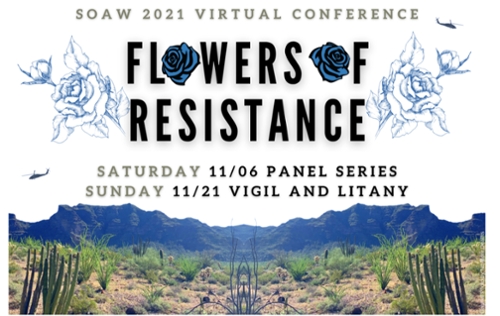 Sunday, November 21, 2021, None Specified
On Sunday, November 21st SOAWatch will honor the memory of political and social activists, compas, loved ones, and extended community members whose lives were cut short by state violence and who today serve as ancestors guiding us in our collective struggle for peace and justice. The Litany and Presentes will feature the beloved SOA Watch Musicians Collective. Read about the event and how to support the artists here.
The virtual events are FREE, bilingual (Spanish and English, interpretation will be provided) and all are welcome to attend! You will receive an email confirmation with all the links for the panels and the litany after registration. We look forward to sharing virtual space with you.
Charlie King, Emma's Revolution, Colleen Kattau, Francisco Herrera, The Peace Poets, and others will be part of this virtual event. We hope to see you there!
Posted to: Live Virtual Events.