Great Labor Arts Exchange Day 3 & Song Contest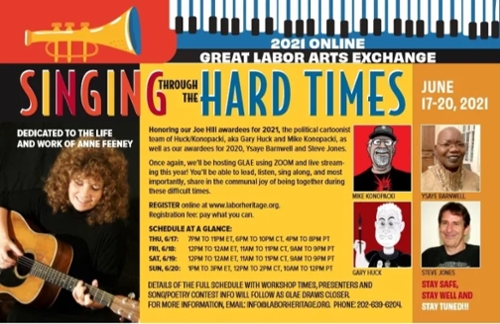 Saturday, June 19, 2021, 12:00 pm
Eastern Time - Online
Join us for the 2021 Online Great Labor Arts Exchange! Saturday will be the Song/Poetry/Spoken Word Contest, so be on the lookout for Charlie's entry: the new song "She Would Not Stop Knocking at the Door". Register at the ticket link to attend the GLAE and Contest!
Dedicated to the life and work of Anne Feeney, this year's theme is Singing Through the Hard Times. We'll be honoring the 2021 Joe Hill Award recipients, Gary Huck and Mike Konopacki, as well as the 2020 recipients, Ysaye Barnwell and Steve Jones.
Saturday is day 3 of the 4-day-long event. We hope to see you there!
Posted to: Live Virtual Events.