Lindsey Wilson & Charlie King: Let Justice Roll Down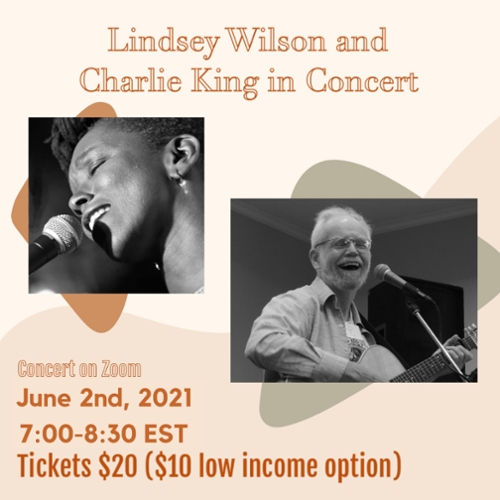 Wednesday, June 2, 2021, 7:00 pm until 8:30 pm
Join us for an evening of song, solo and duet.
Lindsey Wilson is a NYC singer-songwriter with a flare for nostalgia with her memorable mix of 70's style urban folk rock and conscious lyrics. Love songs, protest tunes and lyrics of empowerment have all been a true representation of her style and sensibilities. Lindsey's influences include as Odetta, Richie Havens, Joni Mitchell, and Joan Armatrading. However, Lindsey's message is truly her own. Learn more about Lindsey and her music on her website here.
You can also find Lindsey on Facebook and Instagram.
Charlie King is a musical storyteller and political satirist. Pete Seeger hailed him as "One of the finest singers and songwriters of our time." He is the 2018 recipient of the Phil Ochs Award; also the War Resisters League's Peacemaker Award, given to Charlie and Odetta; the Sacco-Vanzetti Social Justice Award, nominated by Pete Seeger; and the Joe Hill Award. Peggy Seeger says, "If we had more Charlie Kings in the world, I'd be less worried," and Tom Paxton adds, "Luckily, we have him!"
Posted to: Live Virtual Events.