May Day: Elise Bryant & Charlie King at SBCAN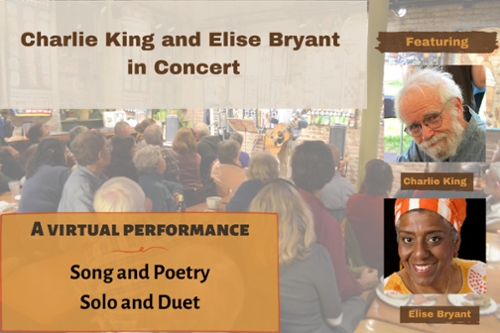 Saturday, May 1, 2021, 4:00 pm until 5:30 pm
Pacific Time - Online
Join Us Tomorrow for a May Day Celebration
Honoring Immigrant Rights and Essential Workers
Sponsored by Santa Barbara County Action Network (SBCAN)
4 PM Pacific / 7PM Eastern
Santa Barbara County Action Network (SBCAN) is a countywide grassroots organization that works to promote social and economic justice, to preserve our environmental and agricultural resources, and to create sustainable communities. SBCAN advocates a holistic approach to community planning that integrates housing, open space, and transportation to meet the needs of all members of our community and future generations. SBCAN works in cooperation with a broad range of progressive activists and organizations to ensure that all members of our community share a voice in our future. Learn more at the link above!
Elise Bryant is a singer, actor, writer and spoken word artist. She currently serves as the executive director of the Labor Heritage Foundation, a non-profit organization that is the "art and soul of the labor movement." Elise is a lifetime member of the Wobblies (Industrial Workers of the World), a member of the AFM Local 1000 and Vice President of CWA/Newspaper Guild Local 32035. In 2012, she received the Lifetime Achievement award from the United Association of Labor Educators. In 2017, she became president of the Coalition of Labor Union Women (CLUW) and a month later was elected vice-president of CWA/TNG Local 32031. Click the link above to learn more!
Charlie King is a musical storyteller and political satirist. Pete Seeger hailed him as "One of the finest singers and songwriters of our time." Like Elise, Charlie is a Wobblie and a founding member of AFM Local 1000. Click the link above to learn more!
Posted to: Live Virtual Events.