Songwriter Smackdown: Steve Deasy and Charlie King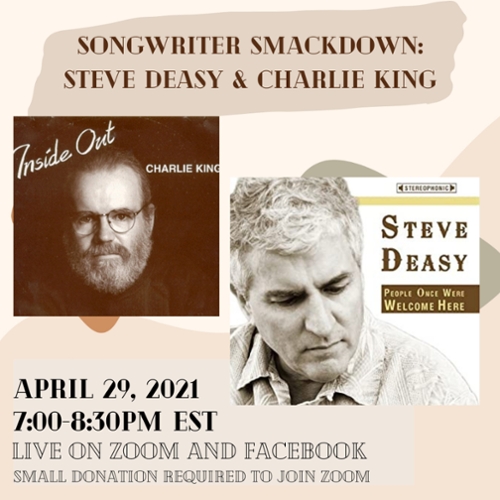 Thursday, April 29, 2021, 7:00 pm until 8:30 pm
Eastern Time - Online
Two songwriters strut their stuff. Steve Deasy inaugurates this ongoing songwriter showcase together with longtime friend Charlie King.
If you would like to join the Zoom room for this event, please click here to make a contribution. The event will also be livestreamed to Facebook for FREE! By joining the Zoom, you will also have access to join a post-show chat with Charlie and Steve. If you cannot make any financial contribution but want to join the Zoom, please email Grace (gcmcenery@gmail.com).
About Steve Deasy:
Steve Deasy is an American-Canadian singer songwriter. He wants to make the world just and peaceful and to just have fun. Si Kahn has said of Steve, "Thank you for your truly wonderful craft as a songwriter, and for your fine spirit."
Charlie King is a musical storyteller and political satirist. Pete Seeger hailed him as "One of the finest singers and songwriters of our time." Click the link above to learn more!
Posted to: Live Virtual Events.