Hard Hitting Words for Hard Hit People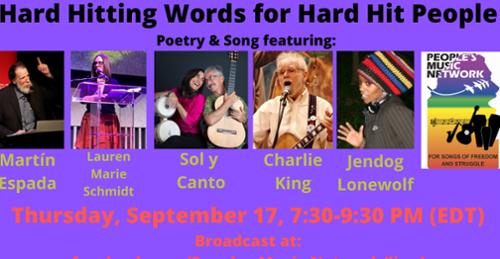 Thursday, September 17, 2020, 7:30 pm until 9:30 pm
Online via Zoom & Facebook
TUNE IN TO THE FREE LIVE BROADCAST via PMN's FACEBOOK PAGE
https://www.facebook.com/Peoples.Music.Network/live/
Thursday, September 17, 7:30 - 9:30 PM (EDT)
* REGISTRATION isn't required to tune in to the free livestream above. But when you register, you get an automatic reminder about the show. In addition, any financial contribution you make supports The People's Music Network.
Two poets, three singers and a rap artist swap their poetry and music to mutually reflect on and celebrate the unsung, the unheard, the heroes history would pass over. Words of rage, tribute and inspiration.
Posted to: Live Virtual Events.