Civil Rights Performance Piece Charlie King/Candace Cassin
Wednesday, May 22, 2019, 7:00 pm until 8:30 pm
Coolidge Museum Forbes Library 20 West Street Northampton MA 01060
Free & Open to the Public
"Ain't Gonna Let Nobody Turn Me 'Round"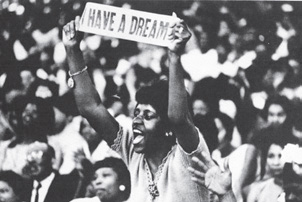 "Ain't Gonna Let Nobody Turn me 'Round" offers a history of the Civil Rights Movement for African Americans from 1955 to 1967, highlighting activists such as Rosa Parks, Fannie Lou Hamer and Ella Baker.
Charlie King & Candace Cassin recreate these dramatic events using historic narrative, original music and over 230 powerpoint images. It is a dramatic performance half a century old and as compelling as this morning's headlines.
Charlie King is a musical storyteller, labor historian and political satirist. Pete Seeger hailed him as "One of the finest singers and songwriters of our time." Candace Cassin is a social service provider, spiritual director and teacher of Buddhist practice. They are married and live in Shelburne Falls MA.
Posted to: Live In-Person Events.